Tuning and Editing Vocals
How to tune and edit vocals? Well, you're about to find out. In this video I'm using Logic Pro X and Flex Pitch as a tuning tool, but you can use any other tuner and DAW, these strategies will apply. This is my approach to tuning and editing vocals:
So, this is my approach to tuning and editing vocals. For many of us, tuning wakes up negative emotions. But if you think about it, tuning isn't uncommon with guitars, bass or drums, so why with vocals?
These days you pretty much have to tune vocals, if you want to sound professional. Listeners are accustomed to hearing vocals in perfect tune in this age of modern music industry. That's just how it is.
However, that doesn't mean your vocals have to sound tuned. Not at all. The goal is to make good vocals even better with slight tuning. Not every note needs to be tuned, but you can, and it will still sound natural if you do it the right way.
When it comes to editing vocals, the idea is not to cut and paste every word to the grid or in line with the drums. Listen to the vocals with everything else going on and only move takes if you feel like the vocals are early or late.
I also like to move whole lines if I can. When you cut and move around single words, it tends to sound worse than the original take. Be careful with that and listen back the whole line to check if you made the vocal track better or worse.
Before applying any tuning or editing to the vocals, make a copy of the vocal track. This gives you the opportunity to compare the original track to the edited one, but also start from scratch, if needed.
Hopefully you found this video helpful. If there's anything you want me to cover in the future videos let me know. Send me an email or leave a comment below. Ask if there's anything unclear or if I left something out. Cheers!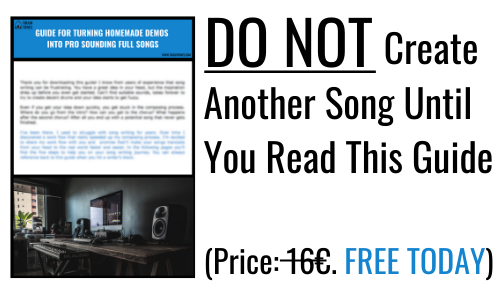 GET FREE ACCESS